Persian Rug Designs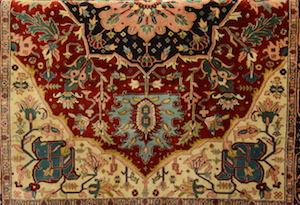 Persian rugs originated in various villages and cities in Persia nown today as modern-day Iran. The many intricate persian rug designs were named after the different cities where they were produced. As these designs were later recreated in other parts of the world, they still kept their original city names, such as Sarouk, Hamadan, Kerman, Gabbeh, Tabriz, Isfahan, Bidjar and others. The main characteristics of Persian rugs are rich color combinations, thick pile and detailed designs.
Professional rug cleaning and care is essential to keep Persian rugs looking their best. Contact Dalworth Rug Cleaning to find out about all or our rug cleaning and rug care services.
Persian Rug Cleaning
Lovely heirloom-quality Persian rugs require appropriate professional rug cleaning to make sure the vibrant colors do not bleed. Persian rugs are usually made out of wool or silk and are made to last, with proper cleaning, care and maintenance from Dalworth Rug Cleaning.
At Dalworth Rug Cleaning we offer superior
Professional Rug Cleaning Technicians
Dalworth Rug Cleaning's professional rug technicians are certified by the Institute of Inspection Cleaning and Restoration Certification (IICRC) and will deliver the professional results you can trust. Our certified technicians are trained to recognize the different fibers, constructions and types of rugs, along with their potential problems and the needed solutions. We have the equipment, training and experience to restore the beauty of your rugs with our 10-step rug cleaning process.
Contact us today! Our friendly and knowledgeable staff will answer all of your rug cleaning and rug care questions.