Sisal Rug Cleaning in the Dallas-Fort Worth Area
Natural Sisal Rugs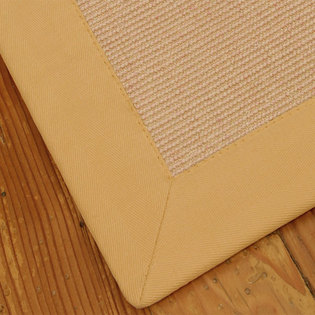 Sisal is a natural fiber made from the Agave Sisalana plant, which originates and is grown South America and Africa. Strong and sturdy, yet pliable, sisal is often used to make ropes, twine, door mats, area rugs and carpeting. For a practical and casual design option, sisal rugs offer a natural, environmentally friendly choice. Sisal rugs are available in many colors, textures and fiber blends like wool and sisal, which is soft but extremely resilient, durable, and long lasting. Hypoallergenic and dust repellent, sisal area rugs are also a great choice for allergy sufferers.
Synthetic Sisal Rugs
Synthetic sisal rugs resemble natural sisal but are generally made from 100% nylon or polypropylene, which is mold, mildew and stain resistant. These rugs are sturdy and perfect for wall-to-wall carpeting and high traffic areas. Whereas natural sisal rugs are water and moisture averse, synthetic sisal rugs can be washed and rinsed with water or a mild soapy solution until it is time to have them professionally cleaned. Natural sisal rugs should always be professionally cleaned since the fiber is prone to troublesome water staining.
Professional  Rug Cleaning
To properly clean and maintain a natural or synthetic sisal rug, it should be vacuumed regularly and professionally cleaned every 12-18 months.
Vacuum on both sides to prevent dirt, surface soil, and debris from settling into the rug. 
Rotate the rug for even wear and to prevent soiling and damage from heavy foot traffic.
Blot spills immediately with a clean white cotton towel and remove any solid debris.
Have your rugs professionally cleaned to prevent staining.
Call Dalworth Rug Cleaning for a professional clean that will keep your rugs looking like new! We also recommend fiber protector to minimize the likelihood of a tough stain setting the next time a spill occurs.   
Professional Technicians
Dalworth Rug Cleaning's experienced professional technicians, are certified by the Institute of Inspection Cleaning and Restoration Certification (IICRC) and will deliver the professional results you can trust. Contact us today; our friendly and knowledgeable staff will answer all of your rug cleaning questions and schedule a time for FREE pickup and delivery of your rug in our Dallas-Fort Worth service area. Ask us about all of our rug cleaning specials!
Take the Hassle Out of Rug Cleaning 
Spot cleaning your rugs at home a hassle? Dalworth Rug Cleaning uses a 10-step rug cleaning process to prevent color bleeds and to clean your rugs to your satisfaction. So give us a call if you'd rather have Dalworth Rug Cleaning take care of cleaning your rug for you. We will pick your rug up, clean it and return it to you within 4-7 days. Contact us today, and we'll take care of the rest!