7 Rugs That Bring The Beach To You
Even if you don't live by a beach, you can feel like you do.Whether you are going for a coastal, nautical or tropical look in your home, we've assembled a few rugs that will have you daydreaming about crashing waves in no time.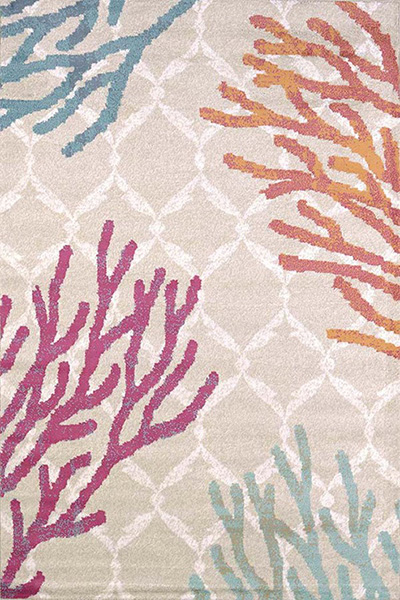 1. Tropical Reef: The colors in this rug are calming with a touch of fun. And it gives you a mixture of colors to play with for the rest of your home decor.
2. Celestial Wave: Ride the wave with this gorgeous rug! This artful piece would be perfect in any room of the house, and is a great statement piece, striking up some conversations for sure (maybe about planning a trip to the beach!).
3. Navy Nautical: For the true nautical lovers, this rug is perfect. The navy blue anchor and wheel symbols are timeless decor. All aboard!!
4. Watercolor Horizon: These watercolors bring a sense of warmth and dreaminess to your space - we couldn't take our eyes off it. Whether it's the water, a beach sunrise, or a beach sunset, this rug encompasses it all.
5. Coastal Tides: If what you love about the beach is feeling your feet in the sand, then this rug is for you. The neutral colors and wave-like pattern will make you feel like you are at the beach in no time. I can almost feel the salty air!
6. Tropical Palm: Do palm trees bring you to that magical place? Then this rug is for you. The luscious greens will brighten up your day and add a little touch of color to your room as well.
7. School Of Fish: You can't do water and the beach without - fish! This is one of the cutest rugs we saw, so naturally, we had to include it. Plus the pretty blue would look great paired with white or light neutral furniture or accessories.
Bring Home The Beach!
So when that itch comes to find the nearest beach, just sit down in your living room, bedroom or even your patio; you don't even have to drive. Music, reading material, bathing suits are all optional. Just grab a nice cold refreshment, particularly one worthy of a tiny umbrella, and hit the beach!