https://www.wayfair.com/outdoor/sb0/patio-sofas-loveseats-c35210.html?curpage=3
Go Play Outside!
My mother always used to say this to me this as a child. Most likely because I was chasing our great dane throughout the house trying to dress him up in doll's clothes or ride him like a horse; because let's be honest, he was as big as one. Yet my mother also understood that enjoying the outdoors is essential to one's well-being.
Today a hefty portion of our outdoor time is spent on a deck or patio. Whether it is our own or a friends, or even your favorite restaurant's, one item that brings the look and feel of a patio all together is a rug. But how do you choose the right one for your outdoor space?
Size (and Shape) Matters
Perhaps the first step is to measure the size of the outdoor area you are wishing to place the rug in. Keep in mind, the idea is to compliment the area not overpower it. Most rugs are circular or square; circular rugs tend to look better underneath round tables or a single chair and table, where a square rug helps tie together furniture sets.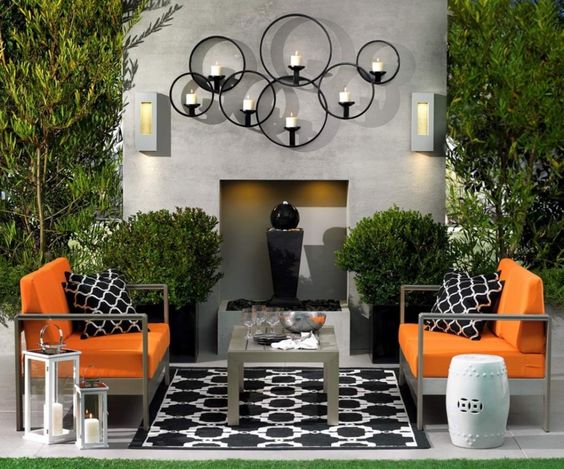 Rug Types
If you are eco-conscious you may opt for a recycled plastic rug such as this beauty or a polypropylene rug such as this one here. Or you can choose a flat weave rug, which are durable and stain resistant. Other options to consider are machine made versus handmade. Machine made rugs are usually lighter, dry faster and wear better than handmade rugs, however handmade rugs are softer.
Making it Last
When selecting your outdoor rug, look for one that is durable, weather-resistant and easy to maintain. That way, your rug won't fade and you will have more time to enjoy your beautiful outdoor area. To avoid mildew and mold buildup, choose a moisture proof rug with a backing that prevents water from getting trapped underneath. For warmer climates, select a rug with a UV treated fabric to prevent loss of color from the sun and extreme temperatures. If you live in an area that gets snow and ice (I commend you), increase the lifespan of your rug by bringing it inside for the winter (just make sure to clean it first).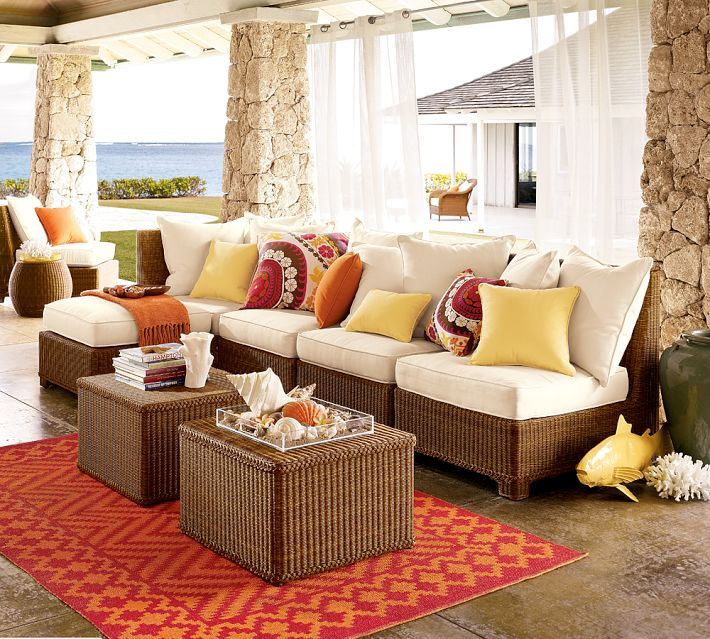 Keeping it Clean
Cleaning outdoor rugs are easy-peasy. You can spot clean them with a wet rag and some dishwashing liquid if needed. Or, just grab a hose and spray the debris right off - then maybe the person next to you just for fun. A leaf blower also works for ridding debris quickly and it looks like you have a jet pack on, so that's cool.
Feeling Blue or Tickled Pink?
Outdoor rugs can be found in numerous shades and patterns. Whether you want to choose a rug to match the design your existing patio furniture, or you want to design your outdoor area around your rug, there is a rug for you. And if you can't choose just one rug (because you are indecisive like myself and like them all!), feel free to layer multiple rugs. That's right. There's no rule saying you can only have one rug. Go crazy!
Now get out shopping, or start looking online for your new rug - and then go practice with your jet pack - err leaf blower!