Area Rug Buying Advice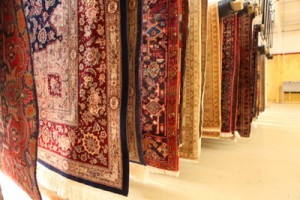 Area rugs are functional accessories that can transform a room, adding warmth, texture and color. They offer style to any interior design at just about any budget. However, the abundance of rug options on the market, with the various designs, colors, styles and fabrics, at times makes it difficult to choose the right one.
Research
As with any purchase, it is important to make an informed decision and do some research prior to buying. Being uninformed usually goes hand in hand with spending too much money on an inferior product, or one that may not meet your particular needs. Before you buy, think about your budget, rug size, fiber, color, and style that would be most appropriate for the room in mind.
Price
Most rug experts and home designers recommend buyers choose the best quality rug within their means. Area rug prices vary widely, depending on the size, construction and fibers used. Generally, larger rugs within a certain category are more expensive than smaller ones, and handmade rugs are costlier than machine made rugs. Similarly, rugs made out of synthetic fibers, such as acrylic, nylon, polyester or polypropylene are usually less expensive than those made out of natural fibers, such as wool and silk. However, some of the synthetic fibers are very strong and durable, designed to be stain and water resistant, so they may hold up better in high traffic areas. With this in mind, make a purchase decision that is suitable for your needs and is in line with your budget.
Size
Area rugs come in different sizes, the most popular being 3×5, 4×6, 5×8, 6×9, and 8×10. Rugs are used to define specific spaces, such as the breakfast area, dining room, den, foyer, etc. Moreover, smaller rugs are used to visually subdivide a big room into smaller activity or conversation areas, while 8×10 or larger area rugs are used to pull a big room together.
Measuring the room before buying a rug is important, as the right fit will enhance the look and mood of the space, while a bad fit would look awkward. Since rugs are not only art for the floor, but for the whole room, the right size is essential to the overall ambiance.
Shape
Although most handmade rugs are rectangular, many commonly come in oval, round and square shapes. The optimal size and shape of the rug should proportionally complement the room and balance the space without overwhelming it.
Style
Area rugs come in a vast array of styles. However, the combination of color and design should be in the context of your space. Therefore, deciding on the general scheme of the room and picking a rug you like are important first steps in the design process.
Some pairings are classic. For example, many floral traditional and Oriental rugs show well in an office or formal living room and add a touch of sophistication and elegance, while geometric print area rugs work well with simple, solid color accessories for a contemporary look. Also, Southwest and Navajo style rugs add to a rustic ambiance, and a shag adds texture and warmth without sacrificing style to various modern décor options.
Layering essential design elements creates ambiance and balances style, mood and texture. However, since large area rugs often set the tone for a room, it is easier to choose the rug first, prior to selecting other furnishings. Smaller accessories are then chosen to complement the main pieces. This approach to decorating minimizes clashing.
Maintenance and Cleaning
Most area rugs do not need elaborate maintenance, but they do look best when they are cared for. In fact, regular vacuuming and professional cleaning will ensure they age well and last long. That includes removing spills gently and in a timely manner. Other basic maintenance includes placing a pad under the rug for cushioning, rotating the rug once or twice each year to prevent fading, and also inspecting the rug periodically to check for wear and tear as well as for moth damage. These considerations also have to play into your rug selection criteria.
Choosing the Best Area Rug for Your Space
A quality rug is a timeless piece of art that offers beauty and does not go out of style. Therefore, taking the time to select the best area rug for your space is a worthwhile task. However, choosing the right area rug involves practical as well as aesthetic considerations.
Your rug has to suit your lifestyle and be applicable to the space it is displayed in. For example, high traffic areas would optimally have either a machine made synthetic fiber rug, or a sturdy natural rug in cotton, jute or sisal, while a delicate hand made silk rug would last longer when displayed in a low traffic room.