Dalworth Rug Cleaning Receives CRI Seal of Approval

Dalworth Rug Cleaning has received CRI's (Carpet and Rug Institute) seal of approval for providing outstanding service to consumers. This endorsement is one of several industry accolades that encompass decades of consistent and dependable service. The company is pleased to offer such a well regarded assurance to rug owners, validating what existing customers already know about the skill, commitment and professionalism company employees routinely display.
CRI is a nonprofit organization striving to elevate benchmark standards for carpet and rug cleaning methods, products, equipment, as well as customer service and performance. Member companies must adhere to standards and guidelines set up by CRI in order to continue to be in good standing with the organization. CRI's seal of approval is helpful to consumers in several ways. It addresses consumer questions and concerns and provides necessary information. In addition, the organization constantly conducts valuable carpet and rug research, the results of which are accessible to anyone, benefitting consumers, service providers and industry alike. Moreover, it also pulls together and makes available up-to-date rug and carpet information and data from a variety of expert sources.
Industry Standards
Unfortunately, not all businesses marketing themselves as rug cleaners have expertise in the field. In reality, it is quite common for rug owners to experience unsatisfactory cleaning results and at times, even damage to their rugs. Addressing consumer anxiety about carpet and rug cleaning service reliability, performance, accountability, and professionalism is desperately needed, as consumers often relate personal experiences of dissatisfaction when dealing with rug cleaners. However, with a trusted seal of approval from an industry-recognized organization, consumers have access to invaluable information. They can confidently seek rug cleaning services from CRI authorized businesses.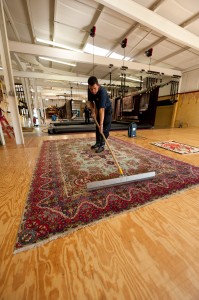 In essence, the organization distinguishes between rug cleaners that meet and exceed industry standards versus those that do not bother going to the trouble of keeping abreast of new and constantly evolving rug industry information, research, and training, as well as updated equipment and product technology. Once the Carpet and Rug Institute authorizes a rug cleaning facility to display its seal of approval, it automatically signals consumers that they can safely use the provider's services. Thus, aligning business credibility and consumer confidence.