How to Remove Area Rug Stains at Home
When trying to remove a rug stain, avoid using harsh chemicals intended for carpet stain removal. Many of the formulas you find at your local grocery store are intended for synthetic carpet fibers rather than wool, silk or other specialty rug fibers. If you are a novice at rug care, we recommend you not experiment with valuable rugs. If you do, be prepared for possible rug damage, including color bleeds and rug fiber damage. You may also set the stain and make it permanent.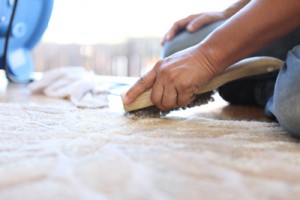 How Can I Test My Rug For Colorfastness?
Prior to attempting rug stain removal at home, always test for colorfastness. First, apply a teaspoon of neutral detergent, such as Dreft, Ivory Liquid, Vel, or Lux, diluted in a quart of water to a clean white towel and wring it out so it is not soaking wet. Then, press the towel to each color on the rug to make sure you have no color transfer on your towel. When doing so, always gently blot rather than rub the area, as rubbing could cause nap distortion. Some rugs are heavy bleeders and you must be careful that no color running occurs. If colors do run, take your rug to a professional rug cleaning facility immediately. If there are no color runs, proceed removing stains according to the instructions below, but do so with caution.
How to Remove Pet Urine, Ink, and Food Spills From Area Rugs
For the following stains, try a dilute solution of water and a neutral detergent (used to wash baby clothes), such as Dreft. Use the directions below.
Pet Urine and Vomit
Egg
Milk
Ice Cream
Beer
Juice
Soft Drinks and Cola
Tea
Coffee
Red and White Wine
Mustard
Ketchup
Tomato Sauce
Gravy
Water Colors
Washable and Permanent Ink
Contain the damage as much as possible by blotting the stain using clean white cotton towels and working from the perimeter of the stain to the center. Make sure to blot gently rather than rub the area, to avoid forcing the stain deeper into the pile. When you absorb most of the spill, make a solution of 32 oz (a quart) warm water with a teaspoon of white vinegar and a teaspoon of a neutral detergent that is mild and is neither acidic nor alkaline (pH of 7.0). Using a sponge, apply small amounts of the solution to the stain. Once the stain has been removed, apply cold water to the spot and gently blot with a clean white towel.
How to Remove Plaster and Clay From Area Rugs
For removing plaster and clay stains, vacuum the debris off the rug. Then proceed to gently clean the area with the water, vinegar and neutral detergent solution as outlined above. Keep in mind that you may still need to call your rug cleaners if the stain remains.
How to Remove Lipstick, Gum, Candle Wax, Tar, and Motor Oil Stains From Area Rugs
Use Guardsman or any other dry cleaning fluid according to the directions on the container. This method is usually effective with grease and oil soluble stains. With candle wax in particular, steam clean the area before using the dry cleaning fluid. Candle wax is best removed by professionals.
How to Remove Crayon Stains From Area Rugs
For wool and acrylic area rugs, crayon stains and smears can be removed with a paint remover that does not contain oil. Follow up treatment with cold water blotting. To remove crayons from nylon, polyester and olefin rugs, you can use either a dry cleaning fluid according to manufacturer directions or an oil free paint remover.
How to Remove Iron Rust Stains From Area Rugs
Excessive humidity rusts iron furniture, which stain the rugs they are placed on. To remove the rust, vacuum the affected area and then apply rust remover. Gently blot the area with cold water.
How to Remove Stubborn Rug Stains
Prompt attention to rug stains is crucial for best results, so attend to stains and spills as soon as possible and do not allow them to set. After ensuring your rug is colorfast and pre-treating your rug stain using one of the applicable methods above, repeat the process until the stain is completely gone. For particularly stubborn stains, call professional rug cleaners immediately. If stains are not completely removed, their residues can damage the rug permanently.