Immediate DIY Rug Spot Cleaning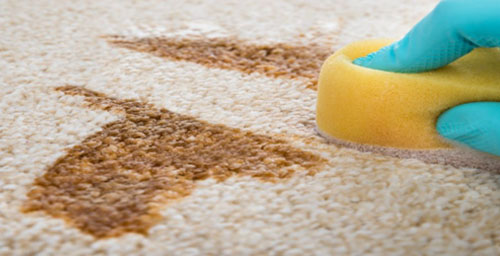 You're enjoying your party at home when someone spills their shrimp cocktail sauce on your fine rug. Or perhaps it was the chocolate fondue, soft drink or wine.
Knowing what to do quickly could save the long-term appearance of your rug and help you enjoy it for years to come. Here are five steps for quick-action cleaning at your home or office.
Apply a small amount of cold water and blot with a dry towel.
Mix 1/2 teaspoonful of hand dishwashing detergent (that does NOT contain bleaches or disinfectants) with a cup of cold water. DO NOT use laundry detergents, automatic dishwashing detergents or over-the-counter carpet spotting products.
Mix 1/3 cup of white distilled vinegar with 2/3 cup cold water.
Apply a small amount of clear rubbing alcohol. Use in very small amounts to avoid damage to your rug. THIS IS NOT ADVISABLE ON LATEX BACKED OR TUFTED RUGS. Be sure of proper ventilation before using any volatile solvents, like rubbing alcohol.
Consult your ARCS cleaner – Dalworth Rug Cleaning. We are the pros who know the specific treatments
NOTE: NEVER USE BLEACH OR BLEACH-CONTAINING PRODUCTS ON YOUR RUG AS IT WILL DAMAGE THE FIBERS.
Disclaimer: These are best practices but are NOT applicable for every situation. The END USER IS SOLELY RESPONSIBLE for determining their suitability for their situation and the consequences of their use. The authors, ARCS (Association of Rug Care Specialists) and Dalworth Rug Cleaning cannot be held responsible for their application and any errors or omissions.
MATERIAL REMOVAL STEPS (Please reference the five steps listed above)
Beer: 1, 2, 3, 5
Blood: 1, 2, 3, 5
Butter: 1, 2, 5
Candle Wax: 4, 5
Chewing Gum: 4, 2, 5
Chocolate: 2, 3, 5
Cocktails: 1, 2, 3, 5
Coffee/Tea: 1, 2, 3, 5
Cosmetics: 4, 2, 5
Crayons: 4, 2, 5
Egg: 1, 2, 5
Food Coloring: 5
Fruit Juices: 1, 2, 3, 5
Furniture Polish: 2, 4, 3, 5
Furniture Stain: 4, 5
Glue (Elmer's): 2, 4, 5
Glue (Carpenter's): 2, 4, 5
Glue (Contact Cement): 4, 5
Grease: 2, 4, 3, 5
Ice Cream: 1, 2, 3, 5
Ink: 4, 2, 5
Ketchup: 1, 2, 3, 5
Milk: 1, 2, 3, 5
Mustard: 2, 3, 5
Nail Polish: 4, 5
Oils: 2, 3, 4, 5
Ointments: 2, 3, 4, 5
Paint (latex): 1, 4, 5
Soft Drinks: 1, 2, 3, 5
Tar/Asphalt: 4, 5
Urine: 1, 2, 3, 5
Vomit: 1, 2, 3, 5
Wine: 1, 2, 3, 5
Dalworth Rug Cleaning is a founding member of the Association of Rug Care Specialists