Indoor-Outdoor Rug Cleaning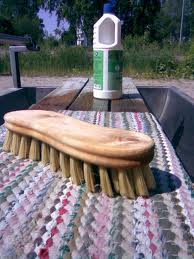 Indoor outdoor rug cleaning is a fairly easy process. These rugs are sturdy and many are mold and stain resistant, making maintenance a straightforward task. Moreover, some are UV-treated specifically for low maintenance outdoor use. There is no fading and no color runs to worry about, as the dyes in these synthetic rugs do not bleed and cause permanent damage. In fact, they can be washed and scrubbed with gusto, according to some manufacturers.
Indoor outdoor rugs are either hand or machine made and are price accessible for most budgets. They are versatile to fit casual decors and high traffic areas and are available in a variety of colors, shapes, styles, and sizes. These rugs are as user friendly as they come and the selection available to consumers is amazing.
Rug Fibers
Indoor outdoor rugs are practical and easy to maintain, as they are made from strong synthetic fibers, such as propylene, acrylic and nylon. These rugs are durable and do well under rough conditions. In fact, rain, humidity and moisture do not diminish these rugs' looks or usability since they are designed to be non-absorbent and fast drying.
Rug Stains and Spills
Although indoor outdoor rugs are sturdy and stain resistant, they are not always stain proof. In fact, they can still stain from red wine spills and dark tomato-based foods. Wine spills can be blotted with a clean cloth dabbed in a bit of club soda. The club soda neutralizes acid in spills, so it tends to reduce the likelihood of stains, although it does not always eliminate them. Food spills need to be gently scraped off with a knife or back of a spoon as soon as possible and then blotted using the same method as the wine stains.
It may be necessary to follow up by rubbing the affected area with a soft brush using a mild detergent and water to remove any remaining food particles. When cleaning indoor outdoor rugs, they should be completely dry before setting indoors, so wood or carpeted flooring is not affected and mold does not develop.
Vacuuming
Vacuuming an indoor outdoor rug regularly is important to keep dirt and debris out of the rug. Although these synthetic rugs are mold resistant, mold can still grow on the dirt if moisture is present within the fibers. Therefore, not only is vacuuming crucial to the life of the rug, but so is keeping it dry.
Indoor Outdoor Rug Cleaning
Synthetic fibers are easy to clean and care for, but they are not maintenance free. Regular vacuuming is essential to keeping these area rugs in good shape. The other part of keeping indoor outdoor rugs looking good is cleaning them with mild detergent and water, as needed. A dilute solution of one half ounce detergent to one gallon water is usually sufficient to clean a large area rug. A large sturdy brush can be used for an all over deep rug cleaning. Using a hose to rinse the rug after sudsing it is completely appropriate for most indoor outdoor rugs. While some rug owners drape their rugs on the fence, others prefer to wash and dry on a sloping driveway to shorten drying time and allow the rug to drain faster.
Professional Rug Cleaning
Professional rug cleaners routinely care not only for expensive wool, silk or specialty rugs, but also for indoor outdoor rugs. Despite the ease of washing these rugs, many people prefer to leave their rug cleaning jobs to professionals, especially if the rug is oversized. In fact, large wet rugs are extremely heavy and can be quite a challenge to maneuver. Another benefit of professional cleaning is that any existing damage or necessary repairs can be spotted by technicians before more damage can take place and make repair work more extensive and expensive.
** For any indoor outdoor rug cleaning, owners should refer to manufacturer guidelines for care and maintenance instructions.