Is Abrash a Flaw in Oriental Rugs?
What is Abrash?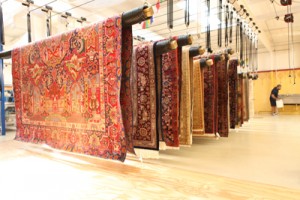 Abrash is a term used to describe color variations in a hand knotted Oriental rug, especially one that is weaved under nomadic or tribal conditions.
What Causes Abrash in Oriental Rugs?
Several factors account for abrash. One is intentional and specific to religion and culture. Others are not intentional, but are particular to the nomadic life style.
Intentional Abrash
In nomadic culture, there is a strongly ingrained idea about man's imperfection and proneness to errors, as opposed to Allah's (G-d's) perfection and omnipotence. It is common for intentional mistakes to be weaved into area rugs, as this is a way to hint at G-d's superiority over man.
Inconsistent Dye Lots
Nomadic weavers use natural vegetable dyes that are mixed in small lots. These dyes are extracted from plant seeds, leaves and roots. However, the resulting hues depend on soil conditions during the particular season of plant picking. In fact, different concentrations of ground minerals are present at different times of the year that account for pigment variations. Hand woven rugs take months to complete, but because the dyes are mixed in small lots, sometimes months apart, there may be slight variations in the intensity and shading of the colors. Thus, the resulting horizontal shade differences in hand woven oriental rugs are very specific to the migratory lifestyle of nomadic rug weavers.
Wool Spinning Process
Weavers in small tribal villages have limited resources. Thus, not only are the dyes mixed in small batches, but also the wool is hand-spun in small quantities weeks or months apart, allowing for variations in the spinning and dying processes. Moreover, the source and quality of the wool are often inconsistent, so dyes are absorbed differently, creating variable pigmentation in the hand woven rug.
Is abrash a flaw in Oriental rugs?
Although some people appreciate uniformity and perfection in their rugs, abrash is not considered a flaw by experts, but is more a matter of preference and taste. Hand woven oriental rugs are characteristically imperfect, allowing variations that add to their charm and authenticity. Various irregularities in shading are natural and are aesthetically pleasing for many rug connoisseurs, especially in nomadic rugs. In fact, some high-end machine made rugs now feature subtle abrash to duplicate the old world charm of tribal rugs.