Navajo Rug Characteristics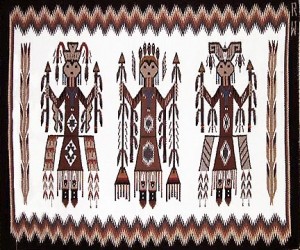 The Navajo rug is a cultural textile tradition in the American Southwest. This style of blanket or rug weaving is considered an art form by collectors, curators and the weavers themselves.
Modern day Navajo weavers from the 1990s through the 2000s have incorporated natural and synthetic materials into their artwork while exploring color, geometry, the alphabet, and pictorial imagery.
While many Navajo rugs from the 1900s through today share certain common characteristics; they are not universal. However, the following characteristics from the no-fringe design to tasseled edges are pretty consistent within the tapestry structure of authentic Navajo rugs.
Let Dalworth Rug Cleaning take care of your Navajo rug at our state-of-the-art rug cleaning facility conveniently located in the the Dallas-Fort Worth Metroplex. Our expert technicians perform a 10-step rug cleaning process to clean and protect your valuable Navajo rugs as well as your everyday rugs. Contact us today to find out more about our rug cleaning and rug storage.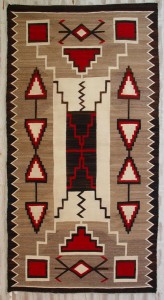 No Fringe
Navajo weavers use vertical looms, where the waft thread is a long, unbroken piece of yarn that is attached to the loom in a continuous figure-eight pattern. With very few exceptions, Navajo rugs do not have fringe. The ones that do are either antique Navajo Germantown rugs from the late 1800s, where fringe is an add-on, or Gallup throws with knotted, one-sided fringe and cotton warp.
Wool or Cotton Yarn
Most Navajo rugs are woven using wool or cotton for warp and wool for weft; wefts run the width of a hand woven rug. Warps run the length of a hand woven rug and are the fringe tassels of the rug. Very few genuine Navajo rugs are woven using synthetic yarn. However, there are exceptions in modern day varieties that use a combination of wool and synthetics.
Selvedges Cords
Typical of Navajo and Pueblo weaving traditions, Navajo blankets or rugs originally had four finished edges, or selvedges, These are yarn cords that follow through the weft loops on the edges of the rug and return into the cloth rather than being cut and fringed. These cords are twined into the fabric resulting in tassel at each corner of the rug. This Navajo weaving method aligns edges and also to adds durability to the left and right sides of the rug.
Tassels
Navajo rugs have tassels at each corner. These are created by weaving the selvedges or cords into the rug during the weaving process. Tassels add a decorative touch that also reinforces each edge.
Lazy Lines
Short diagonal lines or diagonal breaks in a solid color area of a Navajo rug are sometimes called lazy lines or lazy weave. This distinctive weave is also called "lightning design," "scalloped edge weave," "pulled warp," "overstuffing," and "knock warp". Lazy lines are by no means flaws. Rather, they are a one-of-kind design feature of Navajo rugs, where weaving is divided into segments. Since Navajo weavers often weaved sitting on the ground in front of the loom, it was sometimes easier and faster to weave from the bottom to the top of a segment and then move over and connect each angle edged segment to the next one, rather than weaving in a continuous edge-to-edge pattern. This type of ingenious weaving creates unique diagonal lines that are particular to Navajo rugs.
Rug Storage
We understand that your rugs are valuable floor coverings and wall hangings and that your want to protect your investment. So prior to storing Navajo rugs, Dalworth Rug Cleaning highly recommends that you have your Navajo rugs professionally cleaned and treated with an insect repellant to prevent moth, carpet beetle and insect larvae infestations. Our cleaning solutions and insect repellants are designed to protect and preserve your rug and will not cause color or fiber damage to delicate rug fibers.
After Navajo rugs are professionally cleaned and ready for storage, they should be rolled, rather than folded because rolling a rug will create creases. If rugs are to be stored for an extended period of time, they should be covered with acid-free paper. This type of paper protects rugs from excessive moisture and insect infestations. The professional preservation specialists at Dalworth Rug Cleaning also recommend wrapping rugs in an additional layer of clear polypropylene. The advantage of this layer is two-fold. It protects rugs against water damage from leaks and floods, and it adds another barrier of protection against bugs. With all these precautions, it is still a good idea to inspect the rug periodically to make sure there is no mildew, insect infestation or water damage.
Contact Dalworth Rug Cleaning to speak with our friendly and knowledgeable staff. We will answer all of your rug cleaning, repair, restoration and storage questions, schedule a convenient time to pick up your rug, clean it at our stat-of-the art facility and deliver it back to you within 4-7 business days. Also, if you are remodeling or moving, we can professionally store and protect your rug for you until you are ready to have it delivered. Receive a 10% discount when you drop off and pick up your rug at our rug cleaning facility located conveniently between Dallas and Fort Worth in Euless, TX. Ask us about all of our rug cleaning specials!