Silk Rug Cleaning and Care Tips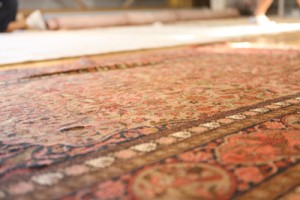 Persian and Oriental natural silk rugs are expensive, high quality, and delicate area rugs. They can be easily damaged by harsh or improper care and cleaning. The lasting beauty of silk rugs is directly related to gentle cleaning and regular maintenance. So, only
professional rug cleaners
should be entrusted with silk rug cleaning. Proper care preserves the beauty of the rug and avoids color bleeds and overall damage. Rug experts recommend gentle in home care and maintenance between
protective treatments
and professional rug cleaning appointments. These everyday at home care tips would allow for the longevity of fine silk rugs.
Do not put heavy furniture on a silk rug. Placing furniture on silk rugs would make permanent marks and indentations on the rug
Do not place fine Oriental silk rugs in high traffic areas, where mud and dirt are tracked onto the rug
Do not place Oriental area rugs in bright sunlit room to avoid fading and uneven damage to the dyes
Do not place silk area rugs in humid or high moisture room to avoid mildew and musty odors
Do not vacuum against the nap of the rug. Vacuum silk rugs regularly, but gently. Fold the fringe under the rug when vacuuming
Inspect the rug regularly for moth and beetle infestations that can literally destroy a fine silk rug
Rotate an Oriental area rug 180 degrees twice annually to allow for even wear
Air out an Oriental silk rug from time to time
Professionally clean an Oriental area rug every 1-2 years, depending on its condition
Attend to spills as soon as possible. Blot area rug gently, but never rub a stain. Rubbing will spread the stain and make it bigger
If you have questions about your Persian or Oriental rug cleaning and care routine, please call Dalworth Rug Cleaning at 800-459-2563.