What are Oriental Rugs?
Oriental Rugs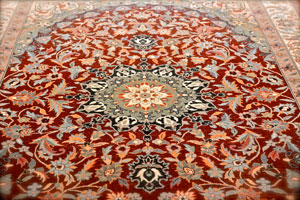 An Oriental rug is characterized by its hand knotted pile and is most often woven in Asia. The countries usually associated with weaving genuine Oriental rugs are China, Nepal, Tibet, Turkey, Pakistan, Egypt, Iran, Afghanistan, India, Armenia and Azerbaijan. However, tufted rugs imitating hand knotted Oriental rugs are increasingly made in some of these countries in an attempt to satisfy consumer demand, while lowering costs of labor and material. To the untrained eye, the variety of seemingly comparable area rugs on the market is a source of confusion.
Why the Confusion?
Many consumers are confused by the term "Oriental rug" simply because it is used interchangeably for the assortment of decorative area rugs on the market. Moreover, some rug salespeople erroneously propagate the misconception by lumping together machine made as well as hand made rugs, both tufted and knotted. In fact, many machine and hand tufted rugs are made to resemble knotted Oriental rugs, in color schemes as well as motifs in order to cater to consumer demand. The similarity is indeed confusing, but it is surface deep only.
Machine Made Rugs
Oriental motif rugs originating in the USA or western Europe are most likely machine made. They are usually made from polyester, nylon, polypropylene or various blends of natural and synthetic fibers. Machine made rugs are weaved on power-looms and attempt to recreate the look and feel of hand knotted rugs. Manufacturing these textiles is both inexpensive and fast compared to similarly sized hand knotted Oriental rugs. Prices vary depending on quality, but in general, machine made rugs cost as much as equivalent quality hand tufted rugs.
Hand Made Rug Methods
Tufted Rugs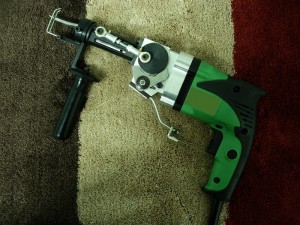 Many hand-tufted rugs on the market are made to resemble true Oriental rugs. However, they are inferior in quality, require less skill and are usually put together relatively quickly with lower grade materials. Hand tufting is a method that utilizes a needle, also called a tufting gun, to imbed tufts of yarn in a certain pattern that is drawn on the rug's backing material. Once tufting is accomplished, a secondary backing is glued to the back of the rug to secure the yarn in place. The pile of the rug is then sheered to produce a smooth, thick and rich pile. In true Oriental area rugs, the fringe is formed from the end of the warp strings. However, unlike knotted Oriental rugs, tufted rugs do not have fringe so bindings are usually fastened to the borders of the rug for increased stability.
Knotted Rugs
Hand knotted oriental rugs are elaborate and time consuming works of art. They are weaved by highly skilled artisans and made with the finest materials available. These factors combine to make magnificent, yet expensive masterpieces that wear well and can last for generations, provided they are properly cleaned and cared for.
Weaving hand knotted rugs takes time and skill. First, a full-scale design is drawn. Then, vertical warp threads are placed on a loom and the intricate knotting process begins. Horizontal weft threads are fastened to the warp using knots, forming the pile of the rug. In Oriental rugs, higher knot density, or knots per square inch, indicates a higher quality, sturdiness and complexity of design. Unlike tufted rugs, the pile is not glued to a backing to support and hold it in place. Rather, to finish out and anchor the rug, both the top and bottom edges of the vertical warp threads are either knotted to create a fringe or are bound with yarn.
How to Buy Oriental Rugs?
When buying Oriental rugs, consumers should know about the differences between knotted, tufted and machine rugs so they can make informed decisions. There is a wealth of data on the web about area rugs, both machine and hand made ones. Reading about Oriental rugs, talking to a trusted authority on the subject and visiting reputable showrooms are all good options to gather information before making a purchase.