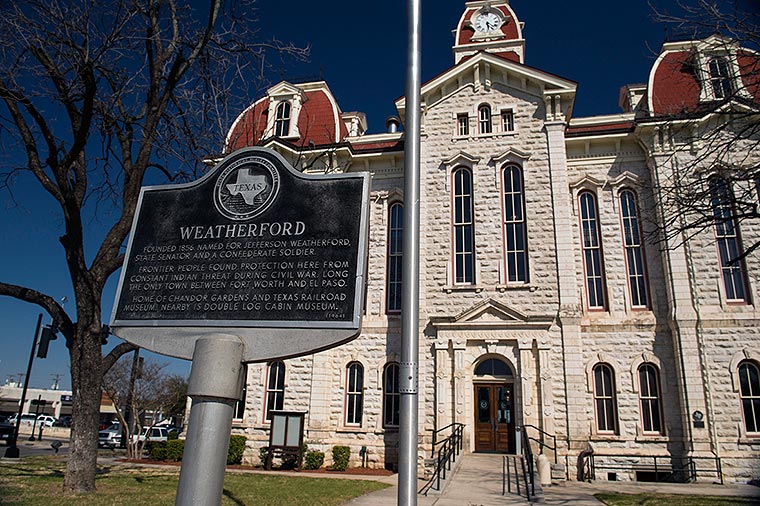 Area Rug Cleaning in Weatherford, TX
Learn About Weatherford, TX
Weatherford is known as the seat of Parker County and is part of the Dallas-Fort Worth Metroplex in Texas. The city is named after the State Senator of the district, Thosmas Jefferson Weatherford. While the county itself was founded in 1855 by State Representative Isaac Parker, the first settlers arrived ten years earlier but its growth was stifled due to the many Native American attacks during this time. Today, Weatherford is known by its nicknames: "The Peach Capital of Texas" and "The Cutting Horse Capital of the World". The city is home of approximately 25,000 people.
Proper rug cleaning and maintenance doesn't have to be a chore. When faced with irremovable stains from pets or deterioration due to age, then it's time to call in the rug experts. Dalworth Rug Cleaning has had nearly four decades of experience when it comes to the cleaning of home and office rugs in the Weatherford, Texas area.
Professional Rug Cleaning, Repair, Protection and Storage in Weatherford, TX
We offer professional cleaning services for all types of rugs in Weatherford, TX – from Navajo, Persian, silk, cowhide, or sisal. We have highly-trained and skilled cleaning technicians who know all the ins and outs of rug cleaning regardless of its material.
In addition, we also offer repair services for damaged rugs and can restore them to the same state as the day that you bought them. If you also need to give your rug some added durability, we can also apply some effective techniques to protect them from moths or other types of deterioration. And if that's not enough, we can also store away your rug for safekeeping and preserve them until you're ready to pick them up again.
Call us now at 817-318-6121 and find out more about our different rug cleaning services in Weatherford, TX. We'll be glad to offer you a free quote, so go ahead and give us a call!
Customer Reviews from Weatherford
Estimate Request from Weatherford, TX
Carla W. on April 10, 2020 9:57:13am
Needing a price for 6 rugs to be cleaned. Have pee on them from dogs and cats. Sizes: Safavieh Lyndhurst Berdi Oriental Rug 2'3" x 14' RUNNER 10' x 10' ROUND Copper Grove Aspromonte Rug 6'7" x 9'1" 9'9" x 12'2" (3 rugs at this size)
Shirley C. on January 8, 2020 2:50:40pm
I have four area rugs needed cleaned. Would like estimate please.
Marisa N. on December 12, 2019 6:05:57pm
Need large area rug cleaned
Hylda N. on October 19, 2019 12:59:40pm
Interested in having 3 rugs cleaned Thank you Hylda
Linda G. on September 10, 2019 9:37:24am
In need of area rug pick up and cleaning
Tracy H. on July 11, 2019 3:14:07pm
I have an area rug that needs cleaning after being rolled up in my garage for 2 months. Was barely peed on by puppy before being put out in garage.
J B. on June 14, 2019 9:03:36am
I have a large (maybe 5x7) leather shag rug. A former pet apparently didn't like leather rugs as he marked it several times. After it dried, it was rolled up & put in a corner. Is it possible for this to be cleaned after being rolled up & stored (climate controlled) for a couple years? Also, I need to know approximate cost for cleaning this rug as well as 8x10 & 5x7 area rugs of carpet material. If you have a location I can deliver these to & pickup please advise. Thanks. Communication by email is preferred. Thanks
Tera R. on March 19, 2019 12:42:00pm
Have three small bedrooms with carpet that need cleaned. Cost?
Tomas G. on February 2, 2019 12:43:13pm
I just purchased a new house and it has hand scraped wood floors. The builder didn't clean them properly and there's grime on the floors from the construction of the house. I'm finding out that's it very difficult to clean these floors. Any mop head you use is being grabbed by the hand scraping of the floors. I need these floors cleaned and buffed. Is this something you can do? If not can you recommend another company that can do this?
Neysa R. on November 4, 2018 5:24:19pm
I have one 9x12, one 8X11 and one 2x7 rugs that need cleaning. There are no tears or worn areas. All three hare fringed on two of the four sides. I would like an estimate that would cover the cost to clean all three rugs