Pets Stain Removal in Dallas and Fort Worth
Although many households have both pets and area rugs, that combination can get a bit tricky at times. There are several issues to consider. For example, both cats and dogs can cause substantial damage to and your area rug or Oriental rug. Playful puppies can chew on the rug, while clever cats may scratch it with their nails. Dander, saliva and fur are other problems as pets shed and their fur and dander can settle in the pile of your area rug. Pets also track in dirt and debris from outdoors not to mention the occasional pet potty accidents which can stain your rug and can cause permanent damage if not cleaned professionally. Contact Dalworth Rug Cleaning to have your rug professionally cleaned by our certified rug specialists. We know how to handle even the toughest pet stains and pet odors including pet urine.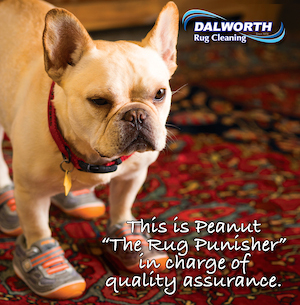 Pet Accidents
Pet accidents on area rugs cannot be avoided at times. If not professionally cleaned immediately, pet urine can significantly damage your area rugs as well as the rug pads and flooring underneath. Repeated pet accidents can cause permananet damage to the rug including:
Pet urine stains that permeate through the rug to the rug's foundation, the rug pad and the floor.
Pet odors can that can be permanent if not treated professionally. 
Mildew damage caused from moisture that allows mold, mildew and bacteria to grow.
Dye bleeds, that are often irreversible, since pet urine is initially acidic, but breaks down into ammonia and carbon dioxide, which can bleach the dyes in your rug. 
In the event of a pet accident, remove any pet waste debris and then blot, not rub, the area gently with a clean white cotton towel. You may add a little water when blotting the soil, but beware of soaking the area with too much water as this can make the stain worse and cause water staining. Before any stains or odors have a chance to set, contact Dalworth Rug Cleaning to have your rug professionally cleaned. We can treat urine stains and odors, mildew damage and color correct dye bleeds.
Rug Protection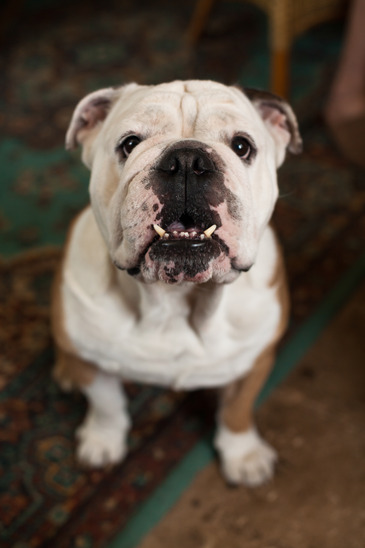 Contact us today! Dalworth Rug Cleaning guarantees the removal of most tough pet odors and other challenging smells and guarantees the removal of most stains such as tough protein stains and pet wastes. After we clean your rug, we will seal and protect the surface of to resist stains and apply an insect deterrent application to repel moths, carpet beetles, and insect larvae. Our entire rug cleaning and repair process includes restoring water damaged areas, and we can provide a custom-sized rug pad to prevent your rug from slipping to extend the life of your rug. If your area rug needs repairs ask us about our rug repairs. In most cases, repairs are more affordable than a new rug. Don't forget to ask us about our climate-controlled storage facility; we will properly roll and wrap your rug and store it until you are ready to have it delivered. We provide FREE pickup and delivery to your home or office in our Dallas-Fort Worth Metroplex service area. 
A Fresh Rug For You and Your Pets
We will help you keep your area rugs looking clean and beautiful year round. Weekly vacuuming, professional rug cleaning when pet accidents occur and deep rug cleaning every 12-18 months will take care of pet dander, accidents, stains and odors. Dalworth Rug Cleaning's professional area rug cleaning facility has the right supplies, techniques, methods and processes to clean your area rugs thoroughly, yet gently without damaging your rug's delicate fibers. Contact Dalworth Rug Cleaning with all of your rug cleaning, repair and restoration questions. We will answer all of your questions and let you know how to maintain your rug for many years even with pets in the home.