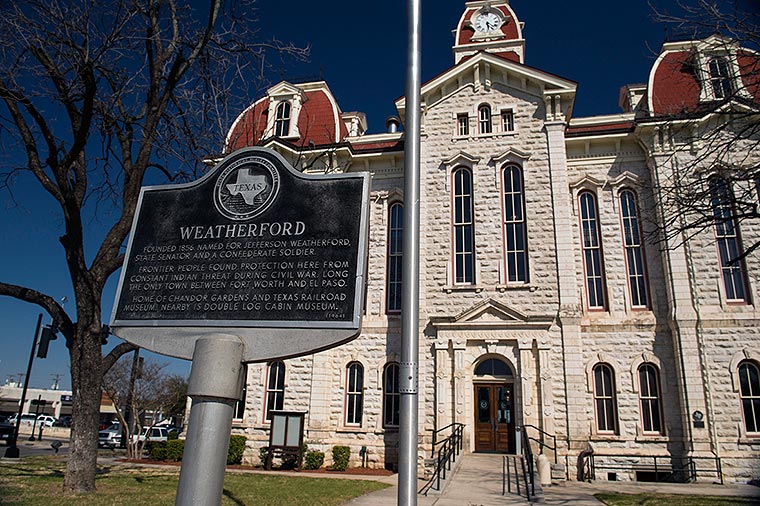 Area Rug Cleaning in Weatherford, TX
Learn About Weatherford, TX
Weatherford is known as the seat of Parker County and is part of the Dallas-Fort Worth Metroplex in Texas. The city is named after the State Senator of the district, Thosmas Jefferson Weatherford. While the county itself was founded in 1855 by State Representative Isaac Parker, the first settlers arrived ten years earlier but its growth was stifled due to the many Native American attacks during this time. Today, Weatherford is known by its nicknames: "The Peach Capital of Texas" and "The Cutting Horse Capital of the World". The city is home of approximately 25,000 people.
Proper rug cleaning and maintenance doesn't have to be a chore. When faced with irremovable stains from pets or deterioration due to age, then it's time to call in the rug experts. Dalworth Rug Cleaning has had nearly four decades of experience when it comes to the cleaning of home and office rugs in the Weatherford, Texas area.
Professional Rug Cleaning, Repair, Protection and Storage in Weatherford, TX
We offer professional cleaning services for all types of rugs in Weatherford, TX – from Navajo, Persian, silk, cowhide, or sisal. We have highly-trained and skilled cleaning technicians who know all the ins and outs of rug cleaning regardless of its material.
In addition, we also offer repair services for damaged rugs and can restore them to the same state as the day that you bought them. If you also need to give your rug some added durability, we can also apply some effective techniques to protect them from moths or other types of deterioration. And if that's not enough, we can also store away your rug for safekeeping and preserve them until you're ready to pick them up again.
Call us now at 817-318-6121 and find out more about our different rug cleaning services in Weatherford, TX. We'll be glad to offer you a free quote, so go ahead and give us a call!
Estimate Request from
GLORIA G. on May 11, 2020 11:34:24am
We have a 10 foot x 14 foot rug that needs cleaned. It might be silk rug. I am looking for an estimate on cleaning. We are in Watauga Texas.
Matthew . on May 11, 2020 8:32:52am
My dog had diarrhea all over my white rug.
Jeannette G. on May 11, 2020 7:35:44am
I would like an estimate on den and living room cleaning. I would also like to know your protection use for us against the COVID 19. Does your staff wear masks and cover their feet? Do they have their temp taken before leaving for a job. I have two vulnerable infants in my home and am over 70.
Darwin K. on May 10, 2020 9:03:00pm
Toys
Leif B. on May 10, 2020 8:14:21am
tertiary
Chiquita H. on May 9, 2020 9:14:32pm
Need my 5 by 7 area rug cleaned
Emily . on May 9, 2020 10:06:45am
Large wool rug needing cleaning and pet odor removal
Frank S. on May 8, 2020 10:20:21am
We have an 8X10 dug in need of cleaning.
Alexandra K. on May 7, 2020 12:32:44pm
We have a husky and our rug is a thick sherpa like material and traps hair, he also peed on it a little so we would like to get an overall cleaning! Thanks, Alex
Joann C. on May 7, 2020 10:03:41am
I have 2 rugs that urgently need clean due to pet urine. They have been cleaned by another company, twice but odors come back. Two other rugs in the future.