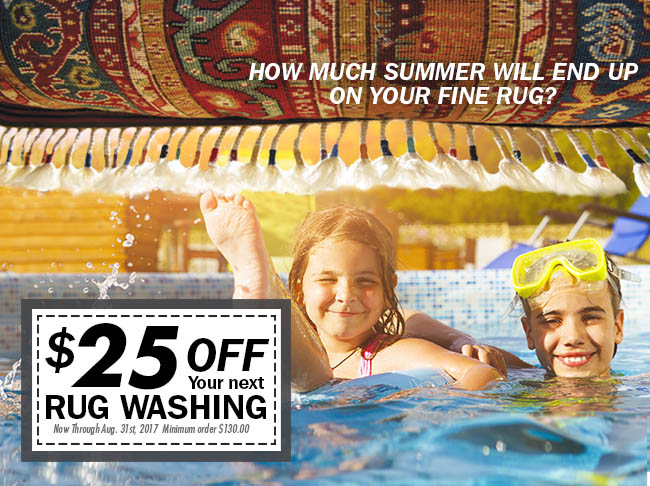 Brighten Your Rugs,
Not only do area rugs make your home look beautiful and feel comfortable, they also carry dirt, dust and allergens that may cause your rug to look dull and worn down. Our delicate rug cleaning process can extend the life of your rugs and make your rugs look, feel and smell brand new. We will remove abrasive dirt, eliminate pet odors and allergens, refresh your rug fibers and improve the vibrance of your area rug, no matter what size they may be. Let us prove the power and effectiveness of our rug cleaning process and protect your investment for years to come. We will clean your area rugs today for a $25 discount off each rug for orders over $130.
Give us a call. We will carefully move all furniture off the rug and bring it to our facility for a deep thorough cleaning. Once we're finished, we will return the rug to your home and put everything back in place for you. You will enjoy the benefits of a vibrant clean rug, free of dust and allergens all season long. Don't forget to ask about our custom rug pads for added comfort and traction in your home, and our fine fabric protector to keep spills from penetrating your rug or causing permanent damage.
We are offering a discount of $25 off each rug washed, on orders over $130.
$25 Off Each Rug Washed!
(On Orders of $130 or more)
If you're the "sharing" kind, you can pass this offer along to your Facebook friends with the buttons at the top. And you can check up on us at our YouTube channel or Facebook page to see testimonials and additional info. You can also check out some BEFORE and AFTER shots of challenges that some pets have presented us. Feel free to share pics of your pets on our page. We love pets!
Did we mention that our new series of FAQ videos is online now? Click here to check them out today!
Sincerely,
Shane Hobbs