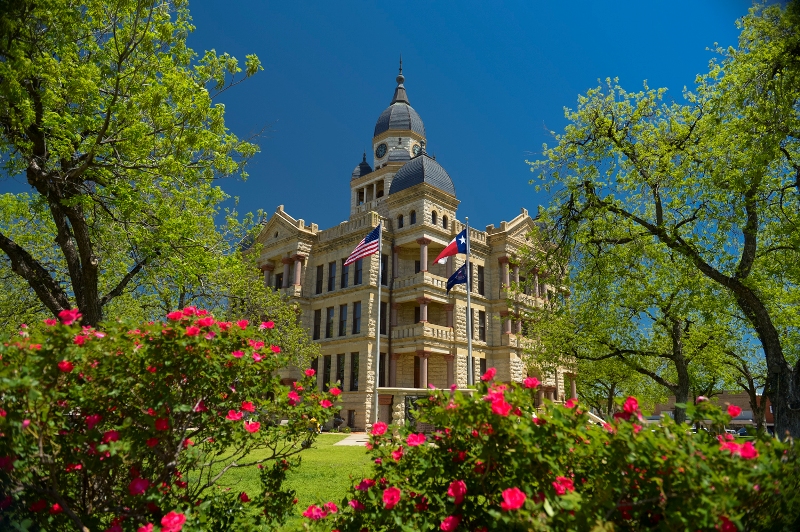 Professional Area Rug Cleaning in Denton, TX
Learn about Denton, TX:
Formally incorporated in 1866, the City of Denton in Texas used to be an agricultural trade hub for the mill and cottage industries. The beginning of the Texas and Pacific Railway in Denton in 1881 opened the small community up to more economic opportunities, and over time, more and more people arrived and settled in the city. Today, with a population of more than 110,000, the City of Denton has grown to become the 11th largest city within the Dallas-Fort Worth Metroplex. The economy is mainly driven by its services, health, retail, manufacturing, and social services sector, which employs more than 20,000 people. It is also home to the University of North Texas, which is the main campus of the UNT System, and it is also where the Texas Woman's University is located. The city boasts of an exuberant arts and music scene, and it is also known for its rich history and its traditional horse farms. Together with its bustling dining and nightlife venues, these attractions have made Denton the go-to city for people looking for a place that is both unique and exciting. It was voted #1 Best Small Town in America by Business Insider in 2012.
Pet stains, damaged fringe or weaving, moth holes, and worn-out backing — these are just some of the things that can ruin your area rug and drastically shorten its service life. At Dalworth Rug Cleaning, we know for a fact that our customers in Denton, TX, see their rugs as precious investments for their home or office interior. This is why we work hard to keep your rugs in excellent condition for your long lasting enjoyment for months to come.
There are many things you can do at home to clean and maintain your rug. Regular vacuuming, using rug pads, and rotating the rug occasionally for even wear and tear are just some them. However, your rug also needs a professional cleaners touch every once in a while. Home care is important, but in order to truly extend the life of your rug — be it made of wool, silk, leather shag, sisal, cowhide, or sheepskin — professional cleaning, maintenance, and repair services are necessary.
We have been in business for almost 40 years, and this long presence in the industry have made us one of the most trusted names in rug protection and cleaning in the state of Texas. If you live in Denton, TX and are looking for exemplary professional service, please call us today at 817-318-6121. Will be more than glad to discuss the specifics of the services you need.
Customer Reviews from Denton
Estimate Request from Denton, TX
Marilyn V. on May 2, 2020 11:16:33am
76"x42" carpet quality area rug. It has been self cleaned many times.
Victoria S. on April 2, 2020 5:45:38pm
I need two Area Rugs cleaned. they are about 10x10s .any specials?
Jane W. on December 1, 2019 9:38:49am
I have two 9x12 wool rugs that need cleaning, also a sofa and loveseat to be cleaned.
Stacy B. on October 4, 2019 3:51:41pm
Hello, I have a 9 x 12 rug that I would like cleaned. No stains, just needs a good cleaning before we move in a few weeks. What would the cost be and when can it be picked up/returned?
Ellie D. on September 29, 2019 9:55:10pm
I'm looking to get my sofa cleaned.
Terry S. on September 27, 2019 11:41:33am
Need 4x6 oriental rug cleaned. Was damaged by water and has spot on back that appears to be mold
Nichole S. on May 15, 2019 9:15:46am
Carpet cleaning for Two rooms and one 8x10 area rug
Frank P. on April 6, 2019 9:16:58am
We a quote for 3 rooms worth of carpet and about 400 sq ft of tile.
Katie B. on December 29, 2018 7:29:10am
Would like a rough price estimate on a 9x12 shag area rug for cleaning.
Kerrie C. on October 15, 2018 1:23:13pm
I have a 8x10 wool rug that has been rolled up and in my home for the past 2 months while construction/painting has been done in my home. After unrolling, i notice the rug has an odor - the rug has not been wet. I'd like an estimate to clean the area rug. it is a solid color - gold.