IICRC Certified Rug Cleaning in DFW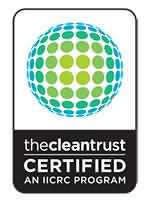 All of Dalworth Rug Cleaning's technicians are certified by the Institute of Inspection Cleaning and Restoration Certification (IICRC). The IICRC is a certification and standard-setting non-profit organization for the inspection, cleaning, and restoration industries. As an ANSI-accredited standard-development organization, the IICRC has led the way in establishing main industry standards and reference guides for the cleaning industry and restoration industry.
IICRC Certified Services
Dalworth Rug Cleaning uses ANSI/IICRC S500 standards to clean, repair, and restore your rugs providing our complete rug cleaning and carpet cleaning services. Our IICRC certified cleaning services and water damage restoration services include:

Rug Cleaning and Stain Removal
Rug Water Damage Repair
Rug Mold Cleaning & Repair
Professional Rug & Carpet Water Damage Restoration
Rug Smoke Damage Restoration & Repair
Fabric & Upholstery Cleaning
Furniture Water Damage and Fire Damage Restoration
Why Choose Dalworth Rug Cleaning
All of Dalworth Rug Cleaning's technicians are IICRC Clean Trust Certified Technicians with the experience and training to safely and effectively perform our rug cleaning and carpet cleaning services and other water damage restoration services according to IICRC certifications and ANSI/IICRC S500 Water Damage Restoration Standards. 
Accredited BBB Company
IICRC Certified Restoration Crews
Certified, Licensed and Insured Rug Cleaning Services
State-Of-The-Art Cleanup and Drying Equipment
Excellent Customer Service
On Site In An Hour
ANSI/IICRC S500 Standards
The ANSI/IICRC S500-2006 Standard for Professional Water Damage Restoration is a procedural standard based on reliable restoration principles, research, and practical experience. Each ANSI/IICRC S500 standard takes years to develop and is reviewed and updated every five years. ANSI/IICRC S500 standards take the coordination of several experts in the field, including:
Allied Tradespersons
Manufacturers
International, National, and Regional Trade Associations
Individual or Franchise Professionals
Cleaning, Inspection, and Restoration Industry Organizations
Insurance Industry; Training Schools; Contractors; and Public Health Professionals
Fields such as the rug cleaning, carpet cleaning and water damage restoration fields change rapidly. Dalworth Rug Cleaning keeps up with the advancement of the science and generally accepted practices of the water damage restoration industry and maintains ANSI/IICRC S500 standards to deliver rug cleaning and carpet cleaning services that keep your residential or commercial property healthy, safe, and comfortable.
IICRC Certified Cleaning Service Inspections
Dalworth Rug Cleaning's technicians are IICRC certified in water damage restoration services and water cleanup services. Using one of Dalworth Rug Cleaning's certified technicians to inspect your rugs and clean and repair any water damage will help extend the life of your rugs, carpeting, flooring and upholstery and ensure that your home or business is healthful for those who live and work there.
According to the Environmental Protection Agency, the average person spends more than 90 percent of time indoors, where levels of pollutants may be 2-5 times higher, or even in some cases 100 times higher, than outdoor pollutant levels. In addition to regular vacuuming and cleaning, it is important to check your home for water damage to prevent costly structural damage and the growth of mold that produces harmful spores that can act as allergens and can affect your indoor air quality and the health of your residential or commercial building and its occupants.
Complete Rug Restoration & Rug Cleaning Services
If your rug has water, smoke, mold or moth damage, contact Dalworth Rug Cleaning. We offer FREE rug cleaning and rug repair quotes for a fresh, clean, vibrant and restored rug that you and your family will enjoy for years to come.
We will send a IICRC Clean Trust Certified Technician to your Dallas or Fort Worth property and pick up your rug for free. We will inspect your rug to determine the extent of any damage, and we will determine the cleaning method and repair method needed to restore your rug.
Professional Rug Cleaning Service
Contact Dalworth Rug Cleaning for professional rug cleaning and carpet cleaning services in our Dallas-Fort Worth service area. Call us today at 888-778-9693.