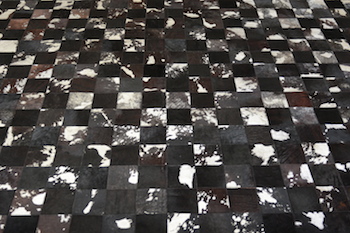 Luxurious, rustic cowhide rugs are becoming quite popular as home décor. Available in a multitude of natural textures and tonal variations, cowhide rugs are tanned to produce an exceptionally soft and fine-quality hide that can last for years when properly maintained and professionally cleaned. Durable, and resilient these rugs do not shed making them perfect for those with allergies and for families with pets and kids.
Dalworth Rug Cleaning recommends having your rug professionally cleaned every 12-18 months to maintain a soft and supple hide.
Leather Rug Maintenance
To maintain your rug between professional cleanings:
Vacuum, shake and rotate the rug regularly. 
Vacuum using the brush attachment, never the rotating brush.
Remove dried spots immediately by scraping carefully towards the middle of the spot.
Do not rub wet spots.
Absorb moisture by blotting with cotton towels, and blot with a damp cloth.
Contact Dalworth Rug Cleaning Dalworth Rug Cleaning to remove tough stains like grease or tough food stains and spills. Dalworth Rug Cleaning will professionally clean your rug using our 10-step rug cleaning process
Professional Rug Cleaning Service
Call Dalworth Rug Cleaning at 817-318-6121 to have your rugs professionally cleaned. Our experienced professional technicians, are certified by the Institute of Inspection Cleaning and Restoration Certification (IICRC). Only a certified rug technician will deliver the results you can trust. Our certified technicians are trained to recognize different fibers, constructions and types of rugs, along with their potential problems and the needed solution. We have the equipment, training and experience to restore the beauty of your rugs with our 10-step rug cleaning process. We are ready to answer all of your rug cleaning questions. Contact us today!