Navajo Rug Cleaning in Dallas & Fort Worth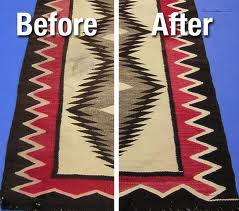 Woven Navajo rugs have transitioned from craft to art, from household decor to museum display, and from curio to investment making them worthy of excellent care, cleaning and storage.
Navajo rug cleaning should be performed  only by a professional rug cleaning facility with certified rug cleaning technicians. Contact Dalworth Rug Cleaning today. Let us take care of your Navajo rug at our state-of-the-art rug cleaning facility conveniently located in the Dallas-Fort Worth Metroplex. Our expert technicians perform a 10-step rug cleaning process to clean and protect your valuable Navajo rugs as well as your everyday rugs. 
Professional Rug Cleaning Services
When it is time to deep clean your rugs or clean spills or tricky spots, contact the professional rug cleaners at Dalworth Cleaning to inspect and clean your soiled rug. Even simple dust and debris that build up at the base of the fibers of your rug contribute to wear and rug damage by rubbing and scraping the yarn. This set in debris requires a professional deep cleaning to remove it completely. In the event of spills or pet accidents, you should blot them immediately with only a dry, white cotton towel to prevent permanent staining. Then contact Dalworth Rug Cleaning to have the stain and the entire rug professionally cleaned.
Never attmpet to clean your Navajo rug at home or at the local dry cleaners. Cleaning a Navajo rug is not a simple task, as dyes commonly bleed, sometimes irreversibly. Dalworth Rug Cleaning's meticulous cleaning process keeps dyes from running and brightens and beautifies your rugs, thus extending the life of your rugs for years to come. Our expert rug technicians will inspect your rug for free and provide a free estimate recommending the best cleaning method to clean and protect it. 
Regular Weekly Rug Maintenance 
While you should have your rugs professionally cleaned every 12-18 months, you should also do regular weekly maintenance between professional cleanings.
Navajo rugs are sturdy and durable enough to be vacuumed 2-3 times a week. 
Regular vacuuming on both sides of the rug will remove dirt and debris from foot traffic and household dust.
Vacuuming should be gentle, and use a suction vacuum with a rug attachment  to prevent damage to carpet fibers. 
Avoid using vacuums with roller bars that may pull and twist fibers.
Do not shake or beat Navajo rugs to remove dust as this rough treatment may fray ends and eventually unravel the yarn fibers in the rug.
Use a quality rug pad under your Navajo rug to keep it in place and prevent slipping, sliding and excessive wear.
Rugs in high traffic areas should be rotated every couple of months for a more even wear and to prevent frayed areas and fading of dyes in direct sunlight.
Rug Repair
Rug wear and tear, holes and frayed areas often occur due to heavy foot traffic, pet accidents, moth and insect infestations and cigarette burns. Contact the experts at Dalworth Rug Cleaning to take care of rug damage to keep small repairs from becoming much bigger ones. Dalworth Rug Cleaning provides free rug inspections and estimates with our repair services. If your rug is in need of repairs, we will repair your rug prior to the cleaning.
Rug Wrapping and Storage
Contact us, should you need to store your rug outside of your home. We provide professional wrapping and storage until you are ready to accept delivery. We have expertise in professionally storing all kinds of Oriental rugs such as Persian, Indian, Chinese and Afghan constructed of fibers from wool, cotton, jute, silk, sisal, to polyester, nylon, acrylic and many more.
Dalworth Rug Cleaning recommends that you have your rugs professionally cleaned before storing them, and we recommend that you have them treated with an insect repellant to prevent moth, beetle and larvae infestations. Our rug technicians will prepare you rug for storage and roll it in acid-free paper and an additional layer of clear polypropylene to protect your rugs from water damage and insects, keeping your rug fresh and like new until you are ready to have it delivered.
Rug Delivery
We will store your rug at no extra charge until you are ready to accept delivery. Then we will safely deliver your rug and bring it into your home or office located anywhere in our Dallas-Fort Worth service area. In addition, we will move any furniture that needs to be moved to install the rug properly. Our work is guaranteed. We will do everything to make sure you are 100% satisfied with our rug cleaning services.
Family owned and operated since 1976, Dalworth Rug Cleaning is conveniently located in the Mid-Cities in Euless, TX. We will meet and exceed your rug cleaning expectations with our attention to detail, our meticulous 10-step cleaning process and our award-winning customer service. Call us today at 817-318-6121 and ask us about all of our rug cleaning specials!
Professional Rug Technicians
If you are looking to have your area rugs professionally cleaned, call Dalworth Rug Cleaning at 817-318-6121. Our experienced professional technicians are certified by the Institute of Inspection Cleaning and Restoration Certification (IICRC). Only a certified rug technician will deliver the results you can trust. Our certified technicians are trained to recognize different rug fibers, constructions and types of rugs, along with their potential problems and the needed solutions. We have the equipment, training and experience to restore the beauty of your rugs with our 10-step rug cleaning process. Our knowledgeable and friendly staff is ready to answer all of your rug care questions; contact us today for a fresh, vibrant clean you can feel!