If attempting to even vacuum your silk rug at home, the risk of damaging your rug is great, which can result in the need for rug repairs to fix holes and torn and missing
 fringe. Silk rug cleaning has to be preceded by deep, yet gentle, compressed air dusting, not vacuuming, for optimal results. When dust particles are trapped in the silk fibers and moisture of any type is added during the cleaning process, the result is wet dirt trapped in the pile that contributes to the untimely wear of the rug and potential allergies to family members. Certified rug cleaning technicians like the experts at Dalworth Rug Cleaning are required to safely and professionally clean silk area rugs.
Silk Rugs Require Special Professional Cleaning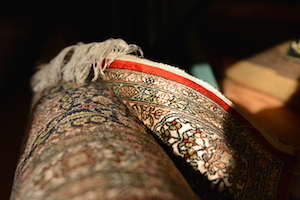 Although silk fibers are strong, silk rugs require gentle care and professional rug cleaning to prevent:
Color bleeds
Fading
Shrinkage, and 
Premature Wear and Tear. 
Dalworth Rug Cleaning recommends that silk rugs be cleaned professionally using our 10-step-rug-cleaning process. Anything else is really taking a chance and can result in permanent damage to your 100% pure silk rug. Call Dalworth Rug Cleaning at 817-318-6121 to have your silk rugs professionally cleaned.
Professional Rug Cleaning Service
Our experienced professional technicians are certified by the Institute of Inspection Cleaning and Restoration Certification (IICRC). Only a certified rug technician will deliver the results you can trust for your silk area rug. Our certified technicians are trained to recognize different fibers, constructions and types of rugs, along with their potential problems and the needed solution for silk rugs including silk and wool Oriental rugs. We have the equipment, training and experience to restore the beauty of your silk rugs with our 10-step rug cleaning process. We are ready to answer all of your rug cleaning questions. Contact us today!