Rug Color Correction Services in DFW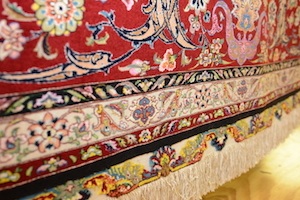 If your fine Oriental rugs and wool and silk textiles have been discolored by the sun or harsh chemicals such as bleach, Dalworth Rug Cleaning's rug color correction services can help restore your rug's hue. Small spots treated with our color restoration process are very hard to detect and the process is less expensive than replacing your entire rug, especially if your rug has sentimental value or is a family heirloom.
Dalworth Rug Cleaning's residential and commercial rug cleaning, rug repair and rug protection treatment services are second to none in Dallas and Fort Worth.
Call Dalworth Rug Cleaning at 817-318-6121 to schedule our rug color correction services and area rug cleaning services in our Dallas-Fort Worth service area to maintain and improve the beauty of your rugs. We offer FREE inspections and FREE quotes to our North Texas customers.
Wool & Silk Rugs Require Special Professional Cleaning 
Although wool and silk fibers are strong, these rugs require gentle care and professional rug cleaning to prevent:
Color Bleeds
Fading
Shrinkage 
Premature Wear and Tear 
Dalworth Rug Cleaning recommends that fine area rugs be cleaned professionally using our 10-step-rug-cleaning process. Anything else is really taking a chance and can result in permanent damage to your 100% pure silk or wool rug. Contact Dalworth Rug Cleaning to have your fine rugs professionally cleaned.
Professional Rug Cleaning Service
Our certified rug specialists will deliver the results you can trust for your fine area rug. Our rug professionals are trained to recognize different fibers, constructions and types of rugs along with their potential problems and the needed solution, including silk and wool Oriental rugs. We have the equipment, training and experience to restore the beauty of your fine Oriental rugs with our 10-step rug cleaning process. Contact us today at 817-318-6121 and ask us about all of our current rug cleaning specials and discounts!