Rug Protection in the Dallas Fort Worth Area
Maintain and preserve the longevity and beauty of your Oriental rugs and other fine textiles with rug protection treatments from Dalworth Rug Cleaning. We offer stain, odor and insect repellent treatments to protect your natural and synthetic area rugs constructed of fibers such as wool, silk, cotton, polyester and other various blends. Our rug protection treatments are safe, hypoallergenic and non-toxic for your family and pets and will gently protect your area rug without harsh chemicals that can damage rug fibers.
Call us today at 817-318-6121 to schedule a FREE pickup time and to get a FREE quote for services in our Dallas-Fort Worth service area.
Rug Protection Treatments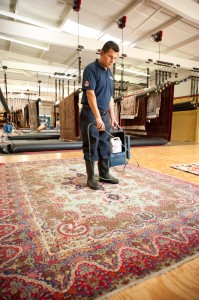 Applying a rug protection treatment like our fiber protector and stain repellent will retard soiling and help prevent spills, stains and pet odors from becoming permanent. Dalworth Rug Cleaning's specialists will gently and thoroughly clean your area rug before applying our rug protection treatments that protect your rug from stains like wine, soda, coffee, juice and chocolate and pet accidents. Our moth repellent treatment will also protect your fine wool Oriental rugs from moth damage.
Contact us today for rug protection treatments and rug cleaning services in North Texas.
Custom-Sized Rug Pad Services
A custom-cut rug pad sized for your area rug is a sound investment in protecting and preserving your rug. Dalworth Rug Cleaning's rug specialists custom cut each rug pad to the size and thickness of each area rug to reduce friction between the floor and the rug and to add a layer of comfort between you and the floor. Our custom-sized rug pads will stabilize your rug, enhance its safety by reducing slippage and provide sound absorption. Find out more about our custom rug pad services in the Dallas-Fort Worth area.
Rug Storage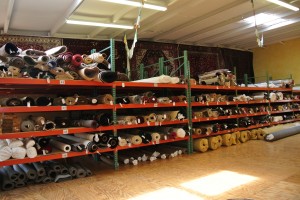 Call Dalworth Rug Cleaning when you need to store your fine Oriental area rug. We recommend our professional area rug cleaning services and moth repellent treatment prior to professional storage in our climate-controlled facility. Our area rug specialists roll and wrap each rug carefully with a special breathable paper designed for Oriental and Persian area rugs to prevent any creases or folding marks. Then rugs are stored in a cool, dry and well-ventilated area at our rug cleaning facility conveniently located between Dallas and Fort Worth in the Mid-Cities. Find out more about our area rug storage services in DFW.
Free Estimates, Pickup and Delivery in Dallas
We offer FREE rug cleaning service estimates and FREE pickup and delivery to customers in our Dallas-Fort Worth service area. We will pick up your rugs from your home or office and safely transport them to our dedicated Dallas Oriental rug cleaning and storage facility in DFW. Call us today at 817-318-6121 for area rug cleaning and rug protection services in North Texas.