Area Rug Repair in Dallas & Fort Worth, TX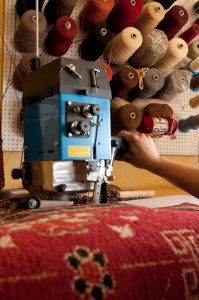 We offer a wide variety of Oriental and specialty rug repair and restoration services. Our rug repair specialists are trained and experienced in working with a variety of machine and handmade rugs, such as Oriental, Persian, Cowhide, Leather, Indian, Afghan, Pakistani, Moroccan, Tunisian, Turkish, Caucasian, Chinese, Romanian, Spanish, Navajo, and many other specialty rugs.  
It is important to inspect the rug periodically for any rug damage and normal wear and tear to prevent more extensive and expensive rug repair and restoration costs. Oriental rug repair is a unique art form, requiring craftsmanship, skill and understanding of rug construction. We utilize our knowledge of rug structure and our vast experience in the industry to provide outstanding area rug repair services to our customers in North Texas and the Dallas-Fort Worth Metroplex. 
Rug Repair Services
Dalworth Rug Cleaning repairs and restores damaged area rugs by:
Rug Fringe Repair - Repairing or totally replacing fringes
Rug Serging & Binding - Finishing rug edges through Serging & Binding
Rug Patching & Reweaving - Repair area rug holes and sew tears and cuts
Rug Backing Repair - Attach new rug backing
In addition to these repairs, we also brighten and correct color runs and deep clean area rug stains and soiling to maintain the vibrant beauty and value of your area rug. Contact us today to schedule a convenient time for our rug specialists to pick up your rug in our Dallas-Fort Worth service area. We will safely transport your rug to our state-of-the-art rug cleaning facility in the Mid-Cities, perform any necessary repairs and professionally clean your rug. Our pickup and delivery services are always FREE to customers in Dallas, Fort Worth, Arlington, Grand Prarie, Hurst, Euless, Bedford and surrounding cities.
Rug Fringe Repair

Your Oriental rugs require the finest care. We examine your Oriental rug to determine the type of fringe repair it requires based on rug construction. If your rug's edges are hand knotted, they need to be re-wrapped by hand, paying close attention to the rug's specific colors and structure. Our goal is to match the fine quality you have grown to expect from your beautiful Oriental rugs. This is a very elaborate and meticulous process that is performed by hand. If your Oriental rug is machine made, power fringing is the preferred method of repair and a quicker process. If your goal is to completely change the fringe, we have a wide variety of colors and fabrics depending on your preference. Some customers prefer to remove the fringe altogether. Whatever your choice, we are here for you!
Rug Serging & Binding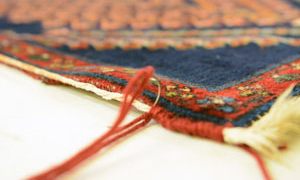 This process of serging gives your rug a fine finished appearance. The sides of your Oriental rugs must be secured with wool, cotton or synthetic thread to protect them and keep them from unraveling. We offer both hand serging and machine serging depending on the rug's construction. Before we begin the serging process, we make sure your rug edges are solid enough. If your rug requires edge repairs, we reinforce them prior to serging for durability and long lasting repairs.
Binding is used primarily on tufted carpet, which is made into rugs. We take a narrow strip of fabric and place it over the raw edge of the rug and then secure it to prevent fraying. This gives your rug a nice finished look.
Rug Patching & Reweaving
For many Oriental rugs and other heirloom rugs, rug patching may be economically and aesthetically the best repair choice. We recommend that patching be done as soon as holes are discovered to prevent more extensive damage.
Depending on the value of the Oriental rug and the extent of the damage, we may recommend rug reweaving. This is the most thorough, time consuming, yet undoubtedly the best method to repair your Oriental rug or other fine area rug to near original condition.
We clean the damaged area and sew new threads matching the texture and color of the original rug into the hole to rebuild the foundation of your rug. Once that task is accomplished, we must precisely duplicate the knots in the original design so repairs are not noticeable.
Rug Backing Repair
We can replace old or worn-out backings on any of your tufted area rugs, hooked rugs or machine-made rugs to protect and maintain your area rug. A new rug backing will extend the life of your rug and help secure any rug tufts, knots, fringe or scrim. Ask us about our natural and synthetic rug backing materials.
Friendly Customer Service
Contact Dalworth Rug Cleaning to speak with our friendly and knowledgeable staff. We will answer all of your rug cleaning and rug repair questions, schedule a convenient time to pick up your rug, clean and repair it at our state-of-the art facility and deliver it back to you within 3-5 days. Also, if you are remodeling or moving, we can store your rug for you until you are ready to have it delivered.
Our specialty and Oriental rug repair and restoration quotes are always FREE in our Dallas-Fort Worth service area. Call us today at 817-318-6121, and we'll take care of the rest!